Get the Job Done in Just 3 Easy Steps…
In just three easy steps, you can now cut down 400% more ceiling grid in the same time as conventional methods and do it more safely and efficiently! Simply position the ceiling wire between the guides, push the tool up against the wire (which opens the cutting blades on the spring loaded hinge allowing the wire to fall between them) to desired cutting height and pull down to cut – It's just that easy!
With this revolutionary tool, one laborer can cut down 5,000 sq. ft. in one hour without climbing a ladder!
State-of-the-Art Performance and Construction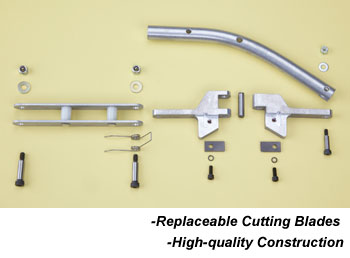 Suspended Ceiling Wire Cutters are engineered to last! The cutting blades are made from high quality, heat treated H2 grade tool steel – designed for heavy-duty wear and durability. Because of our commitment to quality, Professional Engineering Co., Inc. offers a lifetime warranty against defects in manufacturing.
Whether you have a large job or small – Suspended Ceiling Wire Cutters can get it done quickly, easily, and safely! Don't take our word for it, visit our Testimonials page to see what our clients have to say about this amazing tool!
If you are interested in purchasing a Suspended Ceiling Wire Cutter please visit our Order page. If you would like more information on how the product works, contact a PECI representative today.
Suspended Ceiling Wire Cutters reduce your labor in half while doubling your productivity.